Know-how and art of living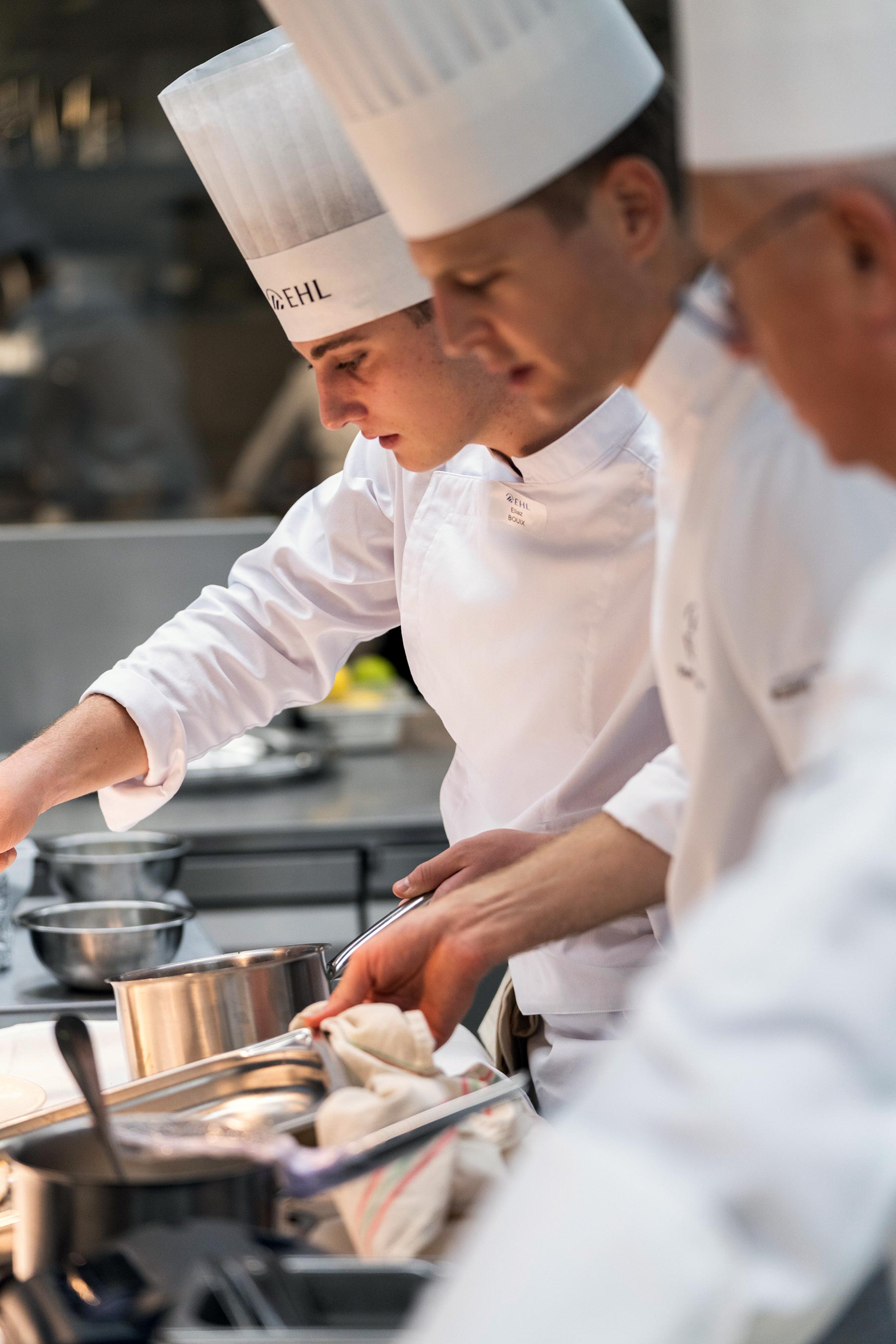 Every week at 1893, women and men combine their know-how to stage with great talent and humility the dishes and delights of a modern cuisine with a meticulous and often unexpected presentation.

Driven by the same thirst for knowledge and desire to do things right, the students discover with their masters the thousand and one secrets of the art of good hospitality. In the kitchen, it may be the preparation of a sauce, the cooking of a fish, the setting of a plate (to be enjoyed first with the eyes). In the dining room, it could be setting up tables, folding a napkin, slicing a roasted meat...

Welcome to 1893, the restaurant where temporary imperfection meets perfection.
Our Chef
Michel de Matteis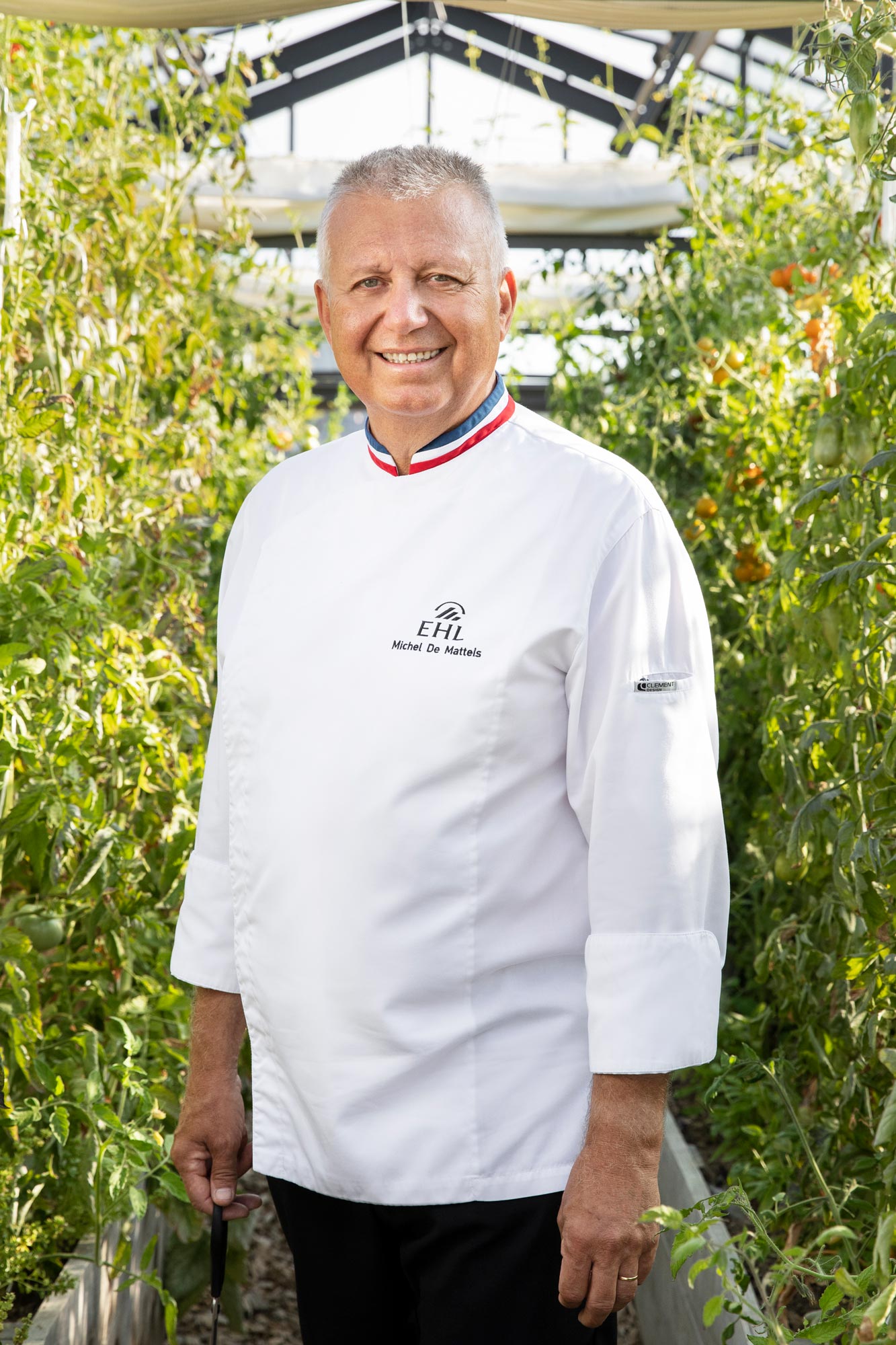 The pleasure of giving pleasure

«The pursuit of absolute precision». All the magic of Michel de Matteis' cuisine is to be found in this motto. And in your plate, which is «a true masterpiece» at each service. A composition that is both simple and sophisticated. A shimmering array of shapes, colours and fragrances that awaken the senses one by one.

Trained at the Ecole Française de Cuisine in Lyon, the Chef of 1893 began his apprenticeship at the Casino de Charbonnières-les-Bains. From his beginnings at Orsi** in Lyon to today's EHL, via such renowned restaurants as Taillevent*** or the Tour d'Argent*** in Paris, the Hôtel Mirabeau**** in Monte Carlo and the Royal Palm***** in Mauritius, Michel de Matteis has followed an eclectic career path within the greatest establishments of international gastronomy. Awarded many times, he received the title of Meilleur Ouvrier de France in 1991, the most prestigious competition in French cuisine.

«I like to give pleasure to my guests, but also to the students who come to train in cooking. Their audacity, their open-mindedness, their risk-taking impress me and push me to look for new ways. Doing my job in such conditions, with this excitement and these on-going exchanges, is a dream».
Awards and distinctions
• 2010/2003/2000/1996 - Member of the National Jury of the MOF (Meilleur Ouvrier de France)

• 2003 - Member of the Organizing Committee of the Grand Prix International Pierre Taittinger

• 1993 - Master Chef of France / Relais & Châteaux representative

• 1991 - Meilleur Ouvrier de France (13 candidates out of 450 awarded that year)

• 1988 - Pierre Taittinger Culinary Prize (first out of 450 candidates)
Our team
In the kitchen, Chef Michel de Matteis and Head Pastry Chef Julien Boutonnet work with a sous-chef, four chefs de partie, a pastry chef and two intendants. In the dining room, under the supervision of Manager Denis Tiraboschi, there are four teaching masters, including the sommelier Samuel Boissy, an assistant and three Food & Beverages managers. All of them have vast experience in large hotels and palaces, which they are happy to pass on to the EHL students. All of them are keen to share their absolute passion for the cuisine of yesterday and today and the great local wines with a smile, and above all with you.
Michel de Matteis
Lecturer, Head chef
Julien Boutonnet
Lecturer, Head pastry chef
Mathieu Robillard
Pastry chef
Rajab Elkanz
Chef de partie
Tessa Jousson
Chef de partie
Leonardo Longhi
Chef de partie
Christian Nicolo
Chef de partie
Thomas M'sili
Assistant Manager
Samuel Boissy
Lecturer, Sommelier
Aurélien Marcellier
Lecturer
Boris Carniaux
F&B Supervisor
Frédéric Godbille
F&B Supervisor
Jonathan Senabre
F&B Supervisor